How to Lower your Auto Insurance Rates in Philadelphia
There are four steps to finding cheaper auto insurance coverage. The more quotes you get, the better your chance of saving money.
Find your vehicle from this list.
Learn about policy coverages and find out which ones are the most important and why it's not all about price.
Get comparison quotes from online companies, independent agents, and exclusive agents to ensure the widest price selection.
Compare the rates you receive to your current policy and see if you can save money by switching.
Why Car Insurance is Expensive in Philadelphia
With over 6 million residents, the Philadelphia, PA metro region, otherwise known as the Delaware Valley, has a high density of vehicles and drivers. Including the cities of Trenton and Camden New Jersey on the east side of the river, as well as Philadelphia and Wilmington on the west, urban sprawl has created many new communities which has extended commute times and contributed to traffic gridlock.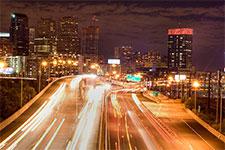 Philly ranks as the 17th most congested city in the U.S., and the average driver spent 38 hours stuck in traffic in 2016, costing $1,236. The most congested corridor is the evening I-76 commute (Schylkill Expressway) from exit 332 to exit 343. With more vehicles comes more congestion, and a higher chance of being involved in an accident.  A higher frequency of accidents contributes to increased auto insurance rates.
Location is a big contributor to policy rates, and drivers in the 19132 zip code tend to pay the highest rates in Phildelphia and unfortunately pay the third highest rates in the entire U.S. according to a recent survey of over 33,000 zip codes.
Top 10 Auto Insurance Companies in Philadelphia by Market Share
State Farm – 20.1%
Erie Insurance – 13.3%
Allstate – 12.0%
Nationwide – 9.9%
Progressive – 8.9%
GEICO – 7.0%
Liberty Mutual – 5.5%
Travelers – 3.6%
USAA Insurance – 3.1%
Farmers Insurance – 2.1%
Top 10 Cars Stolen in Philadelphia
1997 Honda Accord
1998 Honda Civic
2006 Ford F-150
2014 Toyota Camry
2015 Nissan Altima
2006 Chevy Impala
2014 Toyota Corolla
2003 Chevy Silverado
1999 Jeep Cherokee
2015 Chevy Malibu
Insurance Rates for Popular Vehicles in Philadelphia
The table below shows example auto insurance rates for some of the most popular vehicles in Philly. The rates are based on a married female driver age 50 who has no speeding tickets and no at-fault accidents, has $1,000 deductibles for comprehensive and collision coverage, and has Pennsylvania minimum liability limits of $15,000 per person, $30,000 per accident, and $5,000 for property damage liability. Uninsured and underinsured motorist coverage is included.
Policy discounts include multi-vehicle, multi-policy, safe-driver, claim-free, and homeowner. Rate quotes do not factor in the specific garaging location, which can modify coverage prices significantly. To refine rates for your location, click here. To view more trim levels, click on any vehicle.
Other Factors that Influence Rates
In addition to garaging location, driver age, physical damage deductibles, liability limits, and applicable discounts, there are quite a few other factors that can impact the rate you pay for auto insurance in Philadelphia.
The type of vehicle you drive can increase or decrease rates substantially. Higher performance vehicles are more expensive to repair and also have a higher risk of accidents. Cars with high safety ratings may earn a discount due to the lower chances of occupant injuries in an accident.
Your credit history plays a big part in determining rates. Maintaining a good credit rating will not only make it easier to buy a car, but it will also reduce your car insurance rates.
Driving an older vehicle can save you money. Newer vehicles have safety features that are expensive to replace such as backup cameras and sensors. Even a small bumper impact can cost thousands of dollars to repair. Newer paint technologies are also harder to replicate and therefore cost more.
Some vehicles have a tendency to be targets of car thieves more than others. If you live in a high crime area, you may pay more for driving a vehicle with a higher likelihood of being stolen.
Every auto insurance company uses a different rate calculation based on these and many other factors. Some companies have a preference for insuring low-risk drivers while others may prefer to insure high-risk drivers that other companies will not take. Everyone's situation is different and the only way to know which company has the cheapest Philadelphia auto insurance rates is to quote and compare rates from as many carriers as possible.